In memory of Peanut
Saturday, 7th of October 2007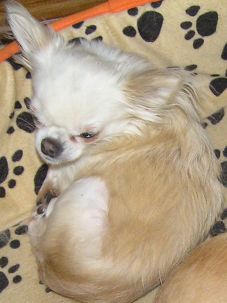 In loving memory of a wonderful little dog who was so badly hurt by a human bully.
Princess is Peanut's mother and these two little dogs were picked up due to being belted by a bullying male who believed that belting a tiny little scrap of a dog would "teach" it to behave! A dog groomer rang Chihuahua Rescue and we picked up the two little girls.
Princess was a darling, quiet little dog and went very quickly to a wonderful home. Just as quickly, we realised that Peanut was calm and loved being petted, but would suddenly snap and bite while screaming - seemingly for no reason. We were shocked and very puzzled: why would a darling little scrap of a dog do this to us when we were softly cuddling, petting and talking to her? We noticed at this time that she had a very pronounced domed shaped head and sometimes quite protruding eyes.
Further investigation by our Vet brought the very disturbing news that Peanut had severe brain damage and was blind due to constantly being hit over the head during her first year of life. We believed that she was suffering from severe pain in her head from the brain swelling and that was why she was suddenly biting and screaming.
The Vet advised us that there was no treatment to help this little one. So, with tears pouring down our faces we made the horrible decision to let Peanut go in peace. The pain is truly unbearable when we go through this. We held Peanut, cuddling her close while she went to sleep.
Rest in loving peace our darling little Peanut.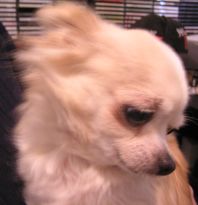 I cannot see you Mommy, when you cuddle me so near.
And yet I know you love me, it's in the words I hear.
I cannot see you Daddy, when you hold me by your side
But still I know you love me when you tell me so with pride.
I cannot see to run and play out in the sun so bright
For here inside my tiny head it's always dark as night.
I cannot see the treats you give when I am extra good
But I can wag my tail in Thanks just like a good dog should.
"She cannot see. The dogs no good" is what some folks might say
"She can't be trained, she'll never learn She must be put away."
But not you, Mom and Daddy You know that it's alright
Because I love you just as much as any dog with sight.
You took me in, you gave me love and we will never part
Because I'm blind with just my eyes, I see you in my heart.

— Sherrill Wardrip (Blind Dogs List member)
Chihuahua Rescue Victoria is a non-profit organisation. The advertisement below supports us directly.