Penny's Success Story
Penny nee Chloe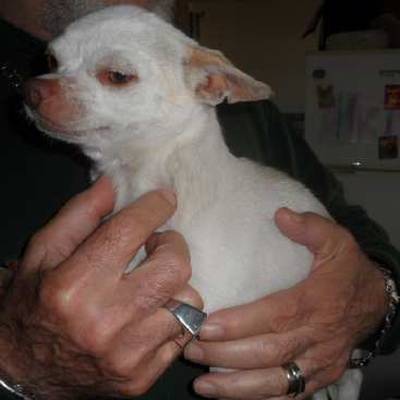 Sunday, 2nd of February 2014
When we first received this little girl, she was known as Chloe. She was 1 year and 8 months old, and had been abused - so we were seeking a peaceful quiet home for this darling little girl. Thankfully, that is just what she has found.
Here are some updates and beautiful photos we have received from Penny's new Mum.
Feel free to discuss Penny on this Chihuahua Rescue Victoria Facebook post for Penny.
Penny settling in
Monday, 9th of September 2013
Here is the first update we received on Penny's progress. She is adjusting well.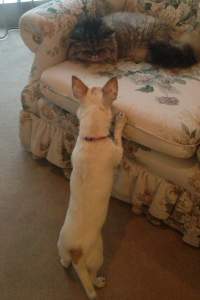 Just a quick note to let you know Penny is settling in well. She slept well last night in her new bed. She eats and drinks and has been spoilt with treats and enjoys the park. She is slowly warming to Mum, Dad and my brother. She is enjoying the peace and quiet of my place and is coming out of her shell. She has a beautiful nature. We are still working on the kitty litter/nappy pads but she's a smart little thing and I am sure she will figure it out!

Will email you next week with an update.
First week in
Monday, 16th of September 2013
A few days later, it is obvious that she is getting on with everyone in her new family.
First week in and Penny is a delight!




She's met the cat: he couldn't be bothered with her, yet she is fascinated by him.

She loves the park and has lots of furry park buddies. She chases birds and has made peace with the cat and even has a new hoodie for pyjamas and a red duffle coat for cold days in the park.

She had a bath and has been fitted for a harness. She is warming slowly to my friends and loves my mum. She is very playful and each morning gets on my lap upside down for a tummy rub! She also sits for treats. I've put her on my Medibank health insurance with Gold Paw pet cover, so it's safe to say I love her to bits and don't want to part with her!
Penny in 2014
Wednesday, 8th of January 2014
New Year celebrations are special for us - I think our animal pets really pick up on our excitement! This update was received a few days after the new year turned over.
Happy new year Rita.




Here's a couple of pictures of Penny, she's very good, happy and full of personality. We've discovered she likes playing fetch too! As you can imagine she has lots of toys and loves a heat pack in her bed at night. She is spoilt rotten and loved to bits.

Hope you're well!
Penny's gallery!
Penny on Facebook
Thank you so much for these updates and the wonderful photos. We are so glad that Penny has found such a loving forever home with you!
Feel free to discuss Penny on this Chihuahua Rescue Victoria Facebook post for Penny.
Chihuahua Rescue Victoria is a non-profit organisation. The advertisement below supports us directly.