Nillie's Success Story
We first put Nillie up for adoption in September 2012. This is what we said about her: Nillie is a gorgeous little six year old Chihuahua. She is a happy little girl who gets on well with other small dogs, people and older children. You will see below that she has found a very good forever home.
Nillie, Part 1
October 2012
Thank you Y for sharing and advising how this little darling is settling in - we are so happy to share the story!
Attached are some photos taken of Nillie at her new home. I haven't got one of her playing with Little Man the Greyhound, if only we could show how she and Little Man stretch out together at the same time - that is hilarious!

Nillie has settled down very well. She enjoys her walks and treats. We have discovered that she's quite picky with her food. She likes meat but often leaves the veggies and small dry dog food in the bowl. We give our dogs a mixture of meat, steamed veggies, dry dog food, fish oil tablets, a little bit of rice or pasta, and sometimes raw chicken necks.

We are pleased to see that she gets along well with the other two dogs. Pinky the Jack Russel terrier is jealous but they don't fight with each other. Nillie knows how to dodge when the greyhound gets a bit too excited and starts running up and down the corridor.

Nillie has also learnt to do a patrol outside the house with Pinky and Little Man when they hear noises. Too cute!

A very smart and sweet little girl, and we are so very lucky to have her. She is a horrible snorer though - we were watching a horror movie the other night and she was sleeping on the couch next to where we sat. Basically the horror movie was ruined because she was snoring so loudly - ever been in a cinema where, just as the movie is getting exciting you realise that someone behind you has fallen asleep and started snoring? Yep!!

Please tell her old family that she's very much loved and it's an honour to have her with us.
Nillie, Part 2
March 2013
We recieved a new update from Nillie's new loving family!
Here's a little update on Nillie whom we adopted last September. She's doing very well, staying active and healthy. She is still very fond of food (which we keep a very close eye on as she keeps stealing food from the other two dogs).

The vet said that she's on the 'porky side' but not obese. But we obviously still have to monitor her food intake so she doesn't cross that line!

Nillie has joined forces with Pinky the Jack Russell Terrier to form a little patrol team to protect the house. Little Man the greyhound usually works as their bodyguard. No issues at all among the three of them despite the obvious size differences.

We recently moved to a new house in Maidstone and they have all settled down very quickly. Very soon they will also be enjoying their sun beds on the outdoor deck when the deck is finished.

Nillie loves her evening walks very much. She runs pretty fast when she's let off leash on the garden, but always listens and comes back to us when her name is called.

A 'velcro' girl who likes to be carried and wants to sleep on our lap when we sit down, she cries (complains) when we ignore her. So how can you say no to her?!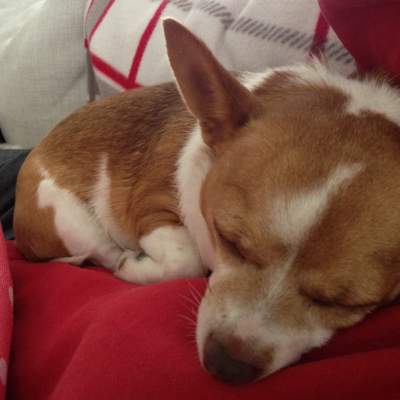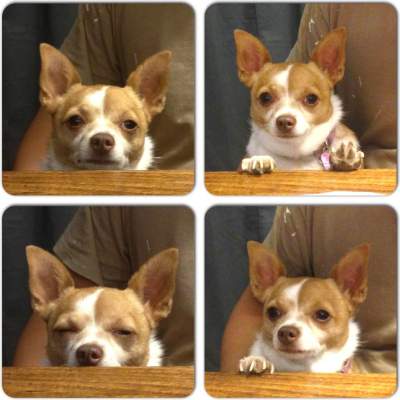 Gallery of Nillie and her friends
Because we had so many cool pics of Nillie and her two mates, we put them all in a gallery for you to enjoy!
Nillie on Facebook
If you like Nillie and her mates, feel free to drop by her Facebook page and say Hi!
Chihuahua Rescue Victoria is a non-profit organisation. The advertisement below supports us directly.