Gizmo's Success Story
Back to success stories: Success stories main page | Success stories: the early ones.
Back to: In Memoriam.
Gizmo at 14, a Success Story
This story was written sometime during 2008, when Gizmo was 14 years old.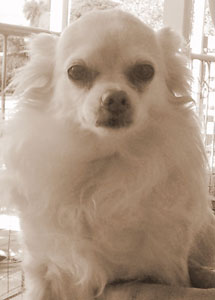 Gizmo is our gorgeous 14 year old Chihuahua with a history of "rescue".
We learned of his adventures when he was four years old and Chihuahua Rescue received the phone call to come pick up this little dog.
A farmer found him cowering in the farm shed, covered in oil and blood, whimpering. Numerous phone calls to the authorities failed to give any leads on car accidents or reports of a missing Chihuahua. A bath, warm food, and bed soon saw Gizmo emerge as a gentle loving little dog. The farm dogs thought he was their little puppy, and the farmer's six and four year old sons just adored Gizmo.
A month later on a torrid Australian summer's afternoon Gizmo was missing. Searching all over the place with no results, when in desperation the farmer asked his six year old "have you seen Gizmo?"
"Oh, yes, Daddy. He was so hot that we put him in the freezer to cool him down!"
Shock, horror! Fearing the worse the farmer whipped the freezer door open to see Gizmo lying on the bottom shelf - then relief to see that glorious tail do a slow wag! Quickly wrapping him in a towel and placing him into the barely warm oven, he watched as Gizmo slowly returned to normal. A trip to the vet clinic confirmed that no harm had been done and Gizmo was as good as new.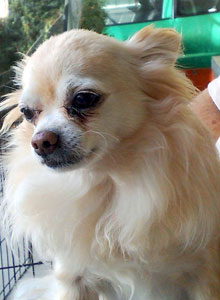 The heartbreaking decision was made to ring Chihuahua Rescue as the family felt Gizmo would be a lot safer living elsewhere. The possibility of harm unintentionally meant; the danger of snakes and the bigger dogs put Gizmo in too much danger.
Chihuahua Rescue went to pick him up. Just occasionally you meet a person, a dog or cat, or see a place, and you get that spiritual connection - as if it was just meant to be. Gizmo was meant to be with us. Hence we fell in love and kept Gizmo.
During the following eight years Gizmo has saved my (Rita's) life on many occasions. I am an insulin dependant diabetic and Gizmo always "sensed" whenever I was having an insulin reaction by scratching my face gently which would make me moan thus alerting Mayer that something was amiss.
Mayer also had episodes of near death experiences with his heart, and spending many days having enforced bed rest. Gizmo never left the bed (apart from going to the toilet). He lay quietly on the bed facing Mayer, just watching him. Gizmo normally jumps onto Mayer's chest for his morning teasing and cuddles, but during this time he did not once jump onto Mayer's chest - nor make any movements that way. How could he possibly know Mayer had undergone open heart surgery?
The boot is now on the other foot. You see Gizmo is now fourteen years old, totally deaf and almost blind. It breaks our hearts to walk into the yard in the moonlight to check on Gizmo only to find him sitting there - quite lost. He appears to be able to see the torch light and will follow its beam back inside. It is now our turn to watch over this little darling in his faltering years.
In Memoriam for Gizmo
Sunday, 24th of May 2015
Gizmo lived on to the grand old age of twenty years and nine months, giving so much love and joy to us for all of those years.
The last few years as he became very slow and was deaf and blind he still remained a very clean little boy and would waddle slowly to the door and give one little bark to be let out!
The last four or so years of his life was spent mostly sleeping in his lovely soft "body moulding" special bed that was given to him by a lovely friend, Noelene. He would hop out of bed every hour or so and "sniff" as he searched around the room until his little wet nose found my legs, then he would heave a massive sigh of relief, turn and waddle back to his bed. Oh how I miss that little wet nose on my leg! This was the most heartwarming thing he did the last four or so years of his life.
Gizmo's life ended very suddenly on 8th May 2014 when he woke in severe pain. He had bladder cancer and treatment could no longer help him. We made the decision not to operate and put him through the ravages of chemotherapy and surgery at his very advanced years. Mayer and I, with broken hearts, nursed and cuddled him as our wonderful vet, Jan Fatohi, allowed our darling little man to travel on to the Rainbow Bridge, where we hope to meet him again one fine day.
RIP our darling Gizmo.
Some of our dear memories
We have so many photos of Gizmo throughout the years. Here are just a few.
If you would like to, say a few words for Gizmo on the Facebook post for this page.
Chihuahua Rescue Victoria is a non-profit organisation. The advertisement below supports us directly.