Freddie's Success Story
Feel free to say hi to Freddie on the Facebook post we created for this little guy's Chihuahua Rescue Victoria Success Story!
Freddie loves his toys
Saturday, 26th of August 2017
We welcomed our darling little Freddie in to our home. Freddie is seven weeks old here. He is eating and drinking. This morning we gave him a little toy and he has been playing with it. He is such a happy little Vegemite that we intend that he should have a chance.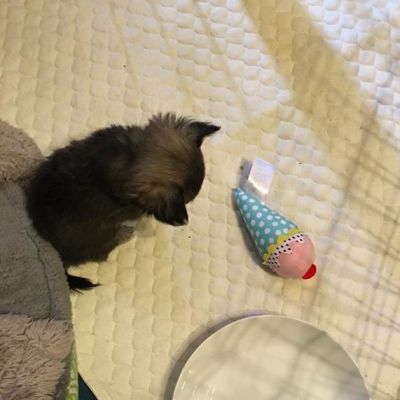 Feel free to comment on the Facebook post for Freddie's picture here.
We have a front door guard dog now
Saturday, 9th of September 2017
Freddie being the big "front door" guard dog! He seems to me to be holding his head much more firmly and the leg exercises are definitely improving his balance.
No, Freddie is not up for adoption!
This video was posted on our Chihuahua Rescue Victoria Facebook page on Saturday, 26th of August 2017.
Happy man with brain damage
Monday, 18th of September 2017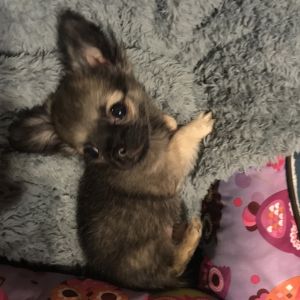 Back in August, we received a phone call from a very concerned lady regarding one of her little puppies who was born with brain damage. We agreed to take this little man into our care and look after him.
Freddie was assessed by our vet, Euan Kirkpatrick (from the Beach Street Veterinary Clinic), who informed us that the medical term for what Freddie has is Cerebellar Hypoplasia. Apparently this is closely related to Hydrocephalus. In simple terms little Freddie has one quarter to one half the brain of a normal puppy his age. He will develop normally but will never have full control of his head or leg movements. In adulthood he will have a "flat footed" ungainly balance. Since this little bundle of joy is so happy and playing like any normal little puppy it is our decision to love him and care for him for his natural life. While there is "quality" of life, Freddie will live!
---
Freddie was featured in our newsletter for September 2017, so be sure to give that a read too!
Today Freddie is eating puppy biscuits quite happily. Notice how he falls over at 23 seconds. Freddie has little control of his head and body movements but is improving very slowly with massaging and exercises.
Hey - I'm in the paper!
Sunday, 8th of October 2017
Well, Jason Edwards, a photographer from the Herald Sun came over on Thursday and Freddie was really pooped out after that. It was to our immmense pleasure that today we see Freddie made it into paper! See more of Jason's work on his own site or Instagram. Mikaela Day wrote the article!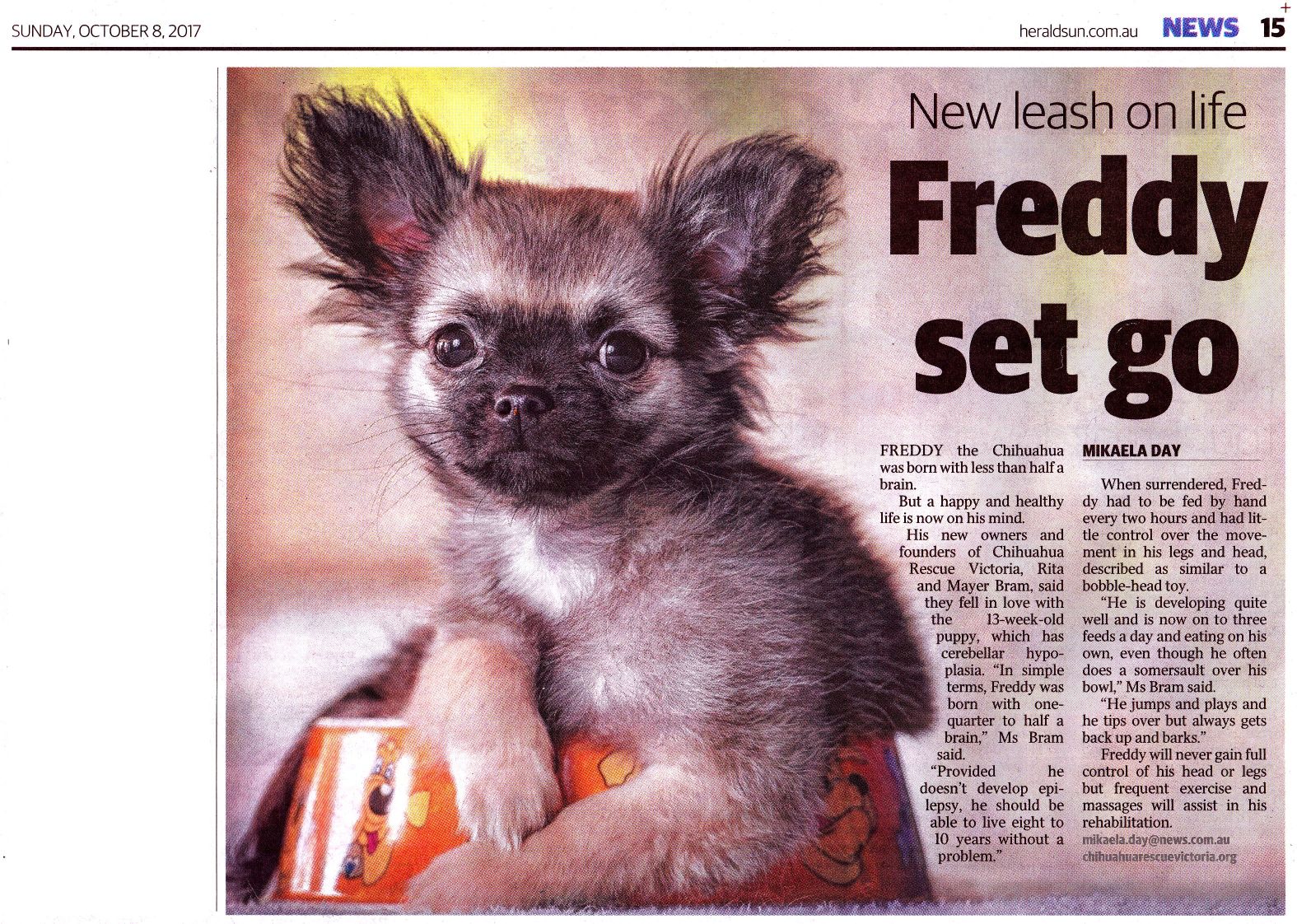 ×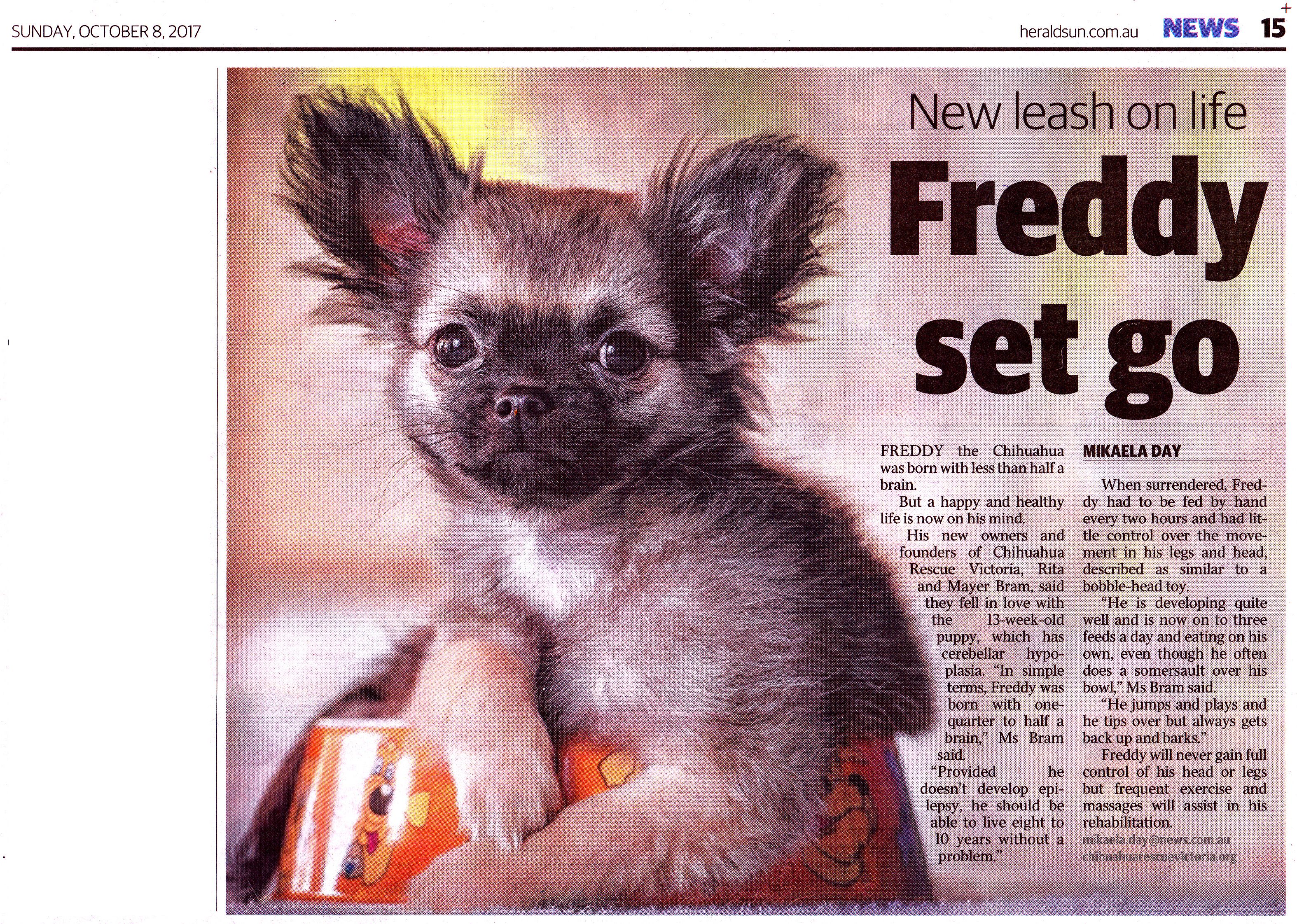 The same article appears online in the Herald Sun as Freddy set go: Chihuahua puppy has a new lease on life after being born with less than half a brain and the Geelong Advertiser.
We are really chuffed to see Freddie appear in the paper and hope it opens a few more hearts and minds to how much joy a rescue dog will bring to the lives of families across Victoria and beyond.
Discuss it on Facebook here if you like.
It's not the first time a Chihuahua Rescue Victoria doggie has been in a paper. Back in 2010, Hillby appeared in a story in The Age: Better by design?
Gallery of images for Freddie
Check out all of these amazing images of our much-loved Freddie!
Chihuahua Rescue Victoria is a non-profit organisation. The advertisement below supports us directly.