Frankie's Success Story
Feel free to say hi to Frankie on the Facebook post for this Success Story!
First up for adoption as Carrie
Sunday, 11th of May 2014
Here is what we said about Frankie when we first put her up for adoption in May, 2014. (She was called Carrie then.)
Carrie is the most friendly loving little cross breed of three kilograms and two years old. She has been desexed, immunised, microchipped, treated for flea and worms. Her problem is that she is an escape artiste!

Carrie is the friendliest little dog anyone could ask for. She would prefer a house where you are home most of the time.
Frankie chose a new family
Monday, 16th of June 2014
Frankie our gorgeous little "escape artiste" has very happily chosen her new Mummy! Announced on Facebook. Below are a few updates published in the couple of days afterwards.
Sleeping on top of the couch after an hour. Thank you Rita for this darling angel. xx
Frankie and her new big sister Boo. This was after one hour in her new home. My new little angel..

"Watching tv with Boo." Rita: Gorgeous, but not much watching: looks more like dropping off. Love it!
Frankie settling in
Tuesday, 24th of June 2014
I prefer to be undressed, Mummy! Our darling Frankie being tortured? Love the attitude! It is obvious she is settling in well.
Frankie is not looking happy in the red coat!
I prefer to be undressed, Mummy!
Carrie renamed as Frankie
Monday, 2nd of February 2015
Carrie, the gorgeous little girl is now called Frankie! We received the below message from her earlier this week.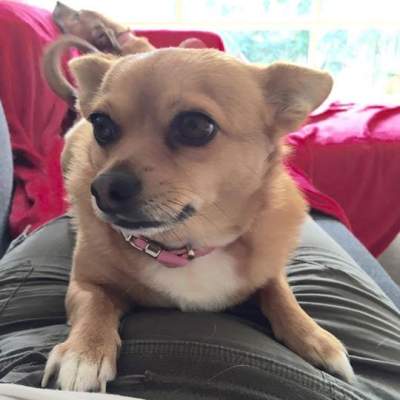 Dear Rita and Maya, little Frankie (who used to be Carrie) asked me to send you a picture to show you how happy and pretty she's looking. She wants me to pass on extra special loves to 'grandma'. xxxx
Gallery of Frankie and Boo
It is so clear from all the wonderful updates we have seen for Frankie that she has truly found a loving forever home. Check out the collection of photos below (showing so many more than the ones showing above).
Feel free to drop a line to Frankie on the Facebook update for this page.
Chihuahua Rescue Victoria is a non-profit organisation. The advertisement below supports us directly.