Felix's Success Story
Back to success stories: main page | 2012
Up for adoption: the dog of many names
Sunday, 22nd of April 2012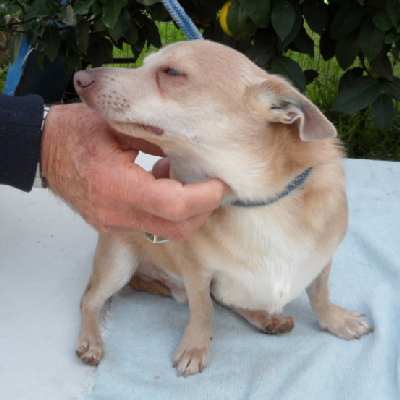 When Felix first came in, he was called Bullfrog. We thought a better name was Frankie - as in "Ol' Blue Eyes" (Sinatra). He has the most unusual blue eyes! He was one of those bigger little boys but a perfect gentleman: so gentle, loving and playful. He was only a year old and we thought he was perfectly suited for a family with older children.
Here is his original notice.
And this is the Facebook post for Felix on the Chihuahua Rescue Victoria Facebook page that you can comment on and see more of his pics!
Transformation into Felix
Friday, 30th of November 2012
Madeleine, thank you so much for this beautiful letter - it truly warms our heart to see Felix has found a loving home (and another name!) with you.
Hi Rita and Mayer,

I've edited my letter in case you would like to post this on your site for potential adopters so they can see how successful adopting a rescued Chihuahua can be. I give you my consent to publish and edit this etc etc!

Today is our 6 month anniversary with our precious "lil' Flix" as we call Felix. :) He's very happy and hubby and I love him very much.

Felix is such a joy. He is always happy and excited just to be alive it seems. He skips and runs around like crazy, throwing his toys around and chewing on his bones. He is such a good boy: he walks wonderfully on the lead, he sits for his food, he comes when called, and he stays - even if you just lift your palm. He is respectful of all our household rules. We absolutely love our precious boy.

Since adopting him I have had some rough times, which lil' Flix helped me through simply by being there and being so joyous. I believe lil' Flix was waiting for me and me for him: I knew from the minute I saw his photo and read his description that he was my little man. Remember how excited I was when you told me he was still looking for a home? I knew an overshot jaw was not a problem, and he eats, drinks, chews on bones etc just fine!

You started the process to get his weight down, and as you can see now he's slimmed down to a perfect 3.2 kilos. He is such a handsome trim little man now: I feel sorry for those who looked past him when he was a chunky monkey with a weird long nose. Look at the beauty and joy they missed out on! That beautiful long shnozz… adorable. Perhaps we should have called him Barbara Streisand ha-ha-ha!

He absolutely adores Phoenix "Beany" girl (my 15 year old rescue Boston Terrier/Pomeranian mix). He snuggles and lovingly kisses Beany constantly. After the passing of my beloved boy Astrix recently, Flix is a great comfort to Beany while she goes through some current health issues. Beany had her leg amputated due to cancer, and she really needs and enjoys the comfort Flix provides when I'm not there. It's important for Beany to have that comfort as she ages. Flix is invaluable to us.

Thank you again for all the wonderful, hard work you both do to ensure homeless Chihuahuas have every opportunity at a happy life. As you well know, every Chi lover is indebted to you both, myself included.

Felix is sitting on my lap as I type this, snuggled in with Beany. He gets so many 'treats' every day: a healthy diet full of yummy chicken necks, organic veggies, organic free range meats and joint health etc supplements. The best way I can celebrate our special day — 6 months together — is with cuddles. We're going to watch a couple of movies together on the couch: lots of time for extra special snuggles and kisses and love.

Thank you so much for rescuing Bullfrog/then Frankie/now Felix and providing a home for him until I came along. Without you I would not have the pleasure of his company every day for the rest of our lives together.

I forgot to thank you both for making the effort to drive my lil' Flix all the way to me as I could not possibly get to Frankston. You made every effort to bring us together and I can assure you your efforts have resulted in a truly rewarding and happy relationship between one of your rescues and me.

Warmest regards,

Madeleine, Chris, Beany and lil' Flix"
Transformation into Felix the Wonderdog
Saturday, 10th of May 2013
Minor update, moving Felix's story into a page of his own (you're looking at it) and adding a recent photo.
This just in: be on the look out for Felix the Wonderdog and Beany the Superdog - thanks for this brilliant photo from Facebook. :)
Feel free to discuss Felix on this Chihuahua Rescue Victoria Facebook post for Felix.
Eye of the Chihuahua, our Chi Anthem
Saturday, 13rd of June 2015
Final cut of the Chi Anthem, prepared by Felix or Madeleine, depending on who you believe. Either way, this is brilliant - thank you very much!
Also see this on our front page gallery.
Gallery for Felix
And enjoy this little gallery of Felix the Wonderdog!
Chihuahua Rescue Victoria is a non-profit organisation. The advertisement below supports us directly.