Chucky's Success Story
Chucky is looking for a new home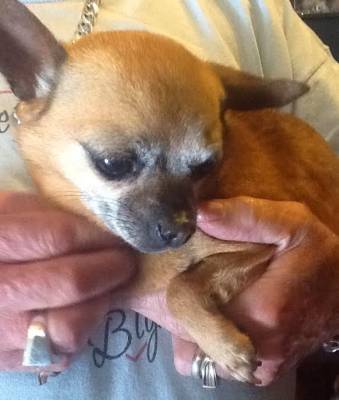 Thursday, 16th of January 2014
Here is what we first wrote about Chucky on the Chihuahua Rescue Victoria Dog Roll when we put him up for adoption.
A delightful little pure Chihuahua about five years old who was surrendered by his family after his owner passed away. He has adjusted really well and settling in, is good with the other dogs. Will not be suitable with young children, not an active lifestyle.
Chucky went with new Mum!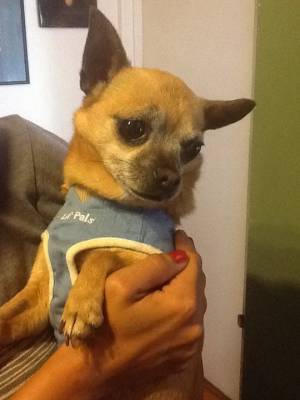 Wednesday, 29th of January 2014
Chucky just going with his new Mummy this afternoon. A very lucky little man getting a second chance in a loving home. See this post saying goodbye to Chucky on Facebook!
Chucky is settling into his new forever home
Saturday, 1st of February, 2014
This is a beautiful update we received about the recently placed Chucky, who has found a lovely new home! We placed Chucky for adoption in January of this year.
Thank you from the bottom of my heart. Chucky is the most divine boy on the planet! Here is a photo I just took. We've been out for a walk, and I gave him a kangaroo tendon when we got home. Not sure how he managed to wedge it so perfectly between the cushions!

Chucky has been, and is, fantastic. He is so well behaved and easy going. His past home must have been good to him. I am over the moon. Again, thank you for allowing this bundle of love into my life. I cannot believe I lived 34 years without him! He has come across 3 dogs today and was happy to sniff and say hello. He has his own bed on a chair next to my bed, and sleeps happily in there till I wake and bring him to mine for morning cuddles. He smiles, relaxes and radiates love. I should be careful though. He had so many admirers on our walk today I worry he will get a big ego! Ha ha ha!

I'll keep you updated on his progress if you like. Feel free to use any picture I send you on the Internet too. You and your husband are true angels. The love and generosity you show is unparallelled.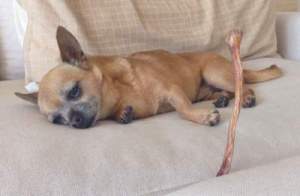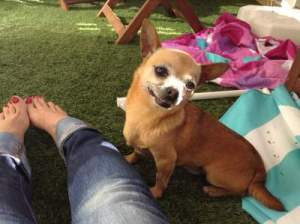 Fantastic Chihuahua Rescue Victoria leashes!
Thursday, 16th of October 2014
Wow! Thank you so much M and Chucky for these fantastic little leads! We had several harnesses with no leads and look what M has made for us! They are just gorgeous. Thank you, M! See this on our Facebook page.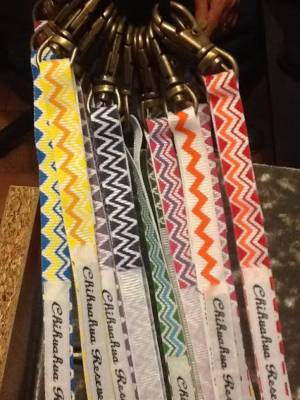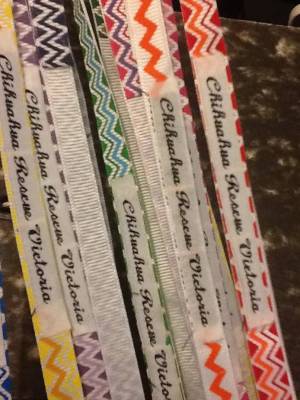 Chucky on Facebook
Feel free to discuss Chucky on this Chihuahua Rescue Victoria Facebook post for Chucky.
We are so happy that Chucky has found a loving home - please do keep us updated!
Chihuahua Rescue Victoria is a non-profit organisation. The advertisement below supports us directly.